Relationship and Sex Education Books & Resources
Browse our sex education products available for primary and secondary aged children and young people
All the products in the BigTalk Education book and resource shop, are custom designed by our expert team with illustrations drawn by our in house artist Heidi Barnes. Be sure to come back too, as our product portfolio is constantly evolving, to ensure we respond to the needs of the thousands of children we work with across the UK.
Our range of Relationship and Sex Education books, resources and posters are designed for use by schools, educational professionals, parents/carers and anyone working with children and young people. Our bestseller is our book Bodies, Babies and Bellybuttons which is a gentle introduction to the human body and reproduction. Our cards are used as part of the BigTalk Education award winning Growing Up Safe – Primary RSE programme. The cards can be used to introduce children from age 3 to the private areas of their bodies and the concept of trusted adults. As children grow up, the cards can help start conversations around safe and unsafe situations. Helping teachers, parents and carers know that children have been taught what to do in risky situations and who to tell. Our range of posters are designed for staff areas in primary schools and public areas in secondary schools deal with a wide range of topics such as selfies, safer sex and child sexual exploitation.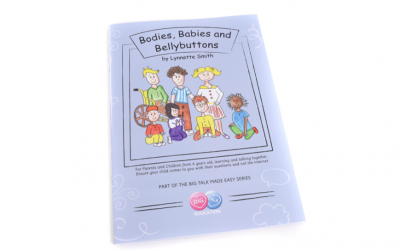 This book is a gentle introduction for children about their bodies and where they came from. A must have for all parents to help answer your children's questions in a simple way.
£12.99 Inc UK P&P
read more